Regenerative Sourcing and Supply Course
Kiss The Ground
LEARN TO ENGAGE WITH A SYSTEM, NOT A CHAIN
Course begins April 18, 2019
Kiss the Ground and Terra Genesis International (TGI) have come together to respond to the loud request from the natural products industry. We've heard your desire to work in a way that contributes to regeneration. And also your question "How do we do it?" Building on the success of Kiss the Ground's Soil Advocate Training, and TGI's experience from over a decade of working on regeneration, this course will create a community for brands to explore their questions together, and to take concrete steps towards regeneration.
This course will include a mix of content focused on specific topics like agriculture, supply, climate change, live Q & A with the instructors to look at specific challenges, and breakout group opportunities that will give you the space to develop the direction of your company.
Watch a recording from our March 21st webinar to get a sneak peak of the course:

More information and registration at kisstheground.teachable.com
Land Stewardship Camp
Vermont Wilderness School
A weekend immersion with connor stedman
June 20-23, 2019, Conway, MA
What is the role of humans in nature? Are we inherently destructive, or can we be a positive ecological force?
Join Art of Mentoring leader and permaculture designer Connor Stedman for a weekend exploring deep nature connection through ecological reciprocity and stewardship.
We will engage in land care practices that go well beyond "Leave No Trace" and take up an active role in creating conditions for the full diversity of life to thrive.
You will:
Learn stories of deep land history and ecological memory
Read the landscape for its plant communities and wildlife habitat resources
Practice a wide range of land stewardship skills, including:

Forest management
Plant propagation
Coppicing & pruning
Fungal inoculation
Landrace and wild gardening
Ethical and regenerative harvest

Explore interspecies communication and direct forms of knowing in nature
Engage the connections between cultural and ecological diversity
Enjoy camping, learning, playing, and swimming with old and new friends along the beautiful South River during some of the longest days of the year!
Between and around land stewardship lessons we'll come together as a community for delicious food, nature games, stories, swimming along the river banks, friendship, and a shared enjoyment of the everlasting summer days. If you like the Art of Mentoring workshop (or you haven't been but want a taste of what it's like…) join us!
More information and registration at vermontwildernessschool.org
Ecological Literacy Immersion Program (ELIP)
Omega Center for Sustainable Living
Designing our regenerative future: A 4-week certification program
June 30- July 26, 2019, Rhinebeck, NY
Solving today's challenges requires ecological literacy—an understanding of the patterns and principles that underlie all living systems.
This transformational 4-week residential certificate program uses the frameworks of regenerative design—a whole systems, place-based approach to problem solving that considers the connections between society, nature, and individuals—to provide participants with instruments and tools for innovation.
Using the 250-acre Omega campus as our classroom, we learn to consciously design for our learning goals, the physical and ecological landscape, and the social systems that support human well-being and carry our designs forward into the future.
While deepening our understanding of place, we examine current global challenges and learn from the solutions that exist at Omega and around the world.
Guided by experts in the fields of permaculture, regenerative agriculture, ecological engineering, water and soil science, wilderness awareness, and whole systems design, we explore the potential for building a regenerative future.
Participants in this 4­-week program will earn an internationally recognized Permaculture Design Certificate. College credit and a certificate of attendance are also available, with a separate fee.
For more information go to: www.eomega.org/ELIP
Pathways to Carbon Farming: Taking Action on Climate Through Agriculture
NOFA Summer Conference
Taking action on climate through agriculture
August 11, 2019, Hampshire College, Amherst, MA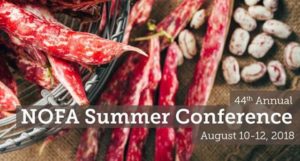 Carbon farming systems can store significant atmospheric carbon in soil and perennial plants and help to mitigate climate change. We will overview current climate change and carbon farming science, explore the roots of carbon farming in global traditional agriculture, and detail avenues for carbon farming implementation by producers, consumers, researchers, and funders.
More information at nofasummerconference.org