WORLD-CLASS PERMACULTURE & SOCIAL ENTERPRISE TRAINING
In a Nutshell – A three-month internship with AppleSeed Permaculture, a cutting edge regenerative design firm based in the mid-Hudson River Valley of New York, USA. Internship runs from September 1st to November 20th, 2013 and focuses on professional permaculture design and social entrepreneurship. The internship offers full immersion and guided mentoring for everything from computer-aided drafting to deep nature connection. This is a unique opportunity – there's nothing else like it, period. Interns must be permaculture-trained, hard-working, and self-directed. Three internship positions are available. Application period June 1st – July 15th, 2013. To apply for the Internship, download the application by clicking here and return it to design@appleseedpermaculture.com by July 15th, 2013.
"This internship was a launching pad for me to dive into doing work I am passionate about for a right livelihood – it empowered me with practical skills and deeper understandings to effectively accomplish my goals." – Brandy Hall, 2010 Intern, owner of Shades of Green, Inc.
Who – Self-directed, entrepreneurial, motivated permaculture designers committed to creating positive change through social enterprise. Must have completed a Permaculture Design Certification Course. Computer skills and mac laptop with Adobe Creative Suite and are necessary. Preference given to applicants who identify as people of color, native peoples, and women.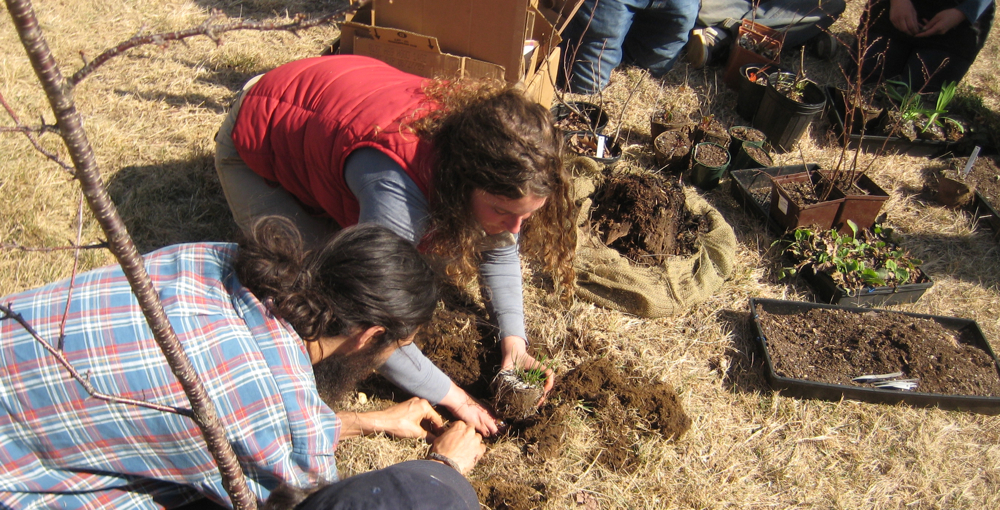 What – Action learning internship with AppleSeed Permaculture, a cutting edge regenerative design firm combining disciplines of sustainability to integrate humans into the landscape by designing productive ecosystems for homes, businesses, and communities. Internships are a mix of research and hands-on project-based learning.
PROGRAM INCLUDES:
Real World Design Project

Manage a professional design project for a real AppleSeed Permaculture client.

Design Apprentiship

Learn from AppleSeed Staff Designers by working with them on their projects: Large-scale water systems, urban edible landscapes, residential micro-farms.

Permacuture Busness Systems

Engage with proprietary systems for running an efficient and sucessful design business.

Deep Nature Connection

Absorb and emulate the processes of your local ecosystems to deepen your skill as a integrative designer.

Regenerative Systems Analysis

Research and apply the best practices of permaculture, biomimicry and eco-social design.
Where – The internship will take place in the Hudson River Valley bioregion of the northeastern United States. The AppleSeed Permaculture office is in Accord, NY. Interns will have the opportunity to live and work on a local permaculture farm for the duration of the internship.
"Beyond the skills needed for professional design and making a small business work, the AppleSeed internship gave me the tools and support to create "world change" from the inside, out." – Mark Angelini, 2010 Intern, owner of Roots to Fruits Ecological Design
Internship Staff
Tama Jackson – Designer, Project Manager & Soil Specialist.
Dyami Nason-Regan -Â Lead Designer, Edible Landscaping & Installation Manager.
Ethan Roland – Lead Designer, Financial Permaculture & Agricultural Economics Specialist.
Local Partners 
Clove Valley CSA
Green Phoenix Permaculture
Falcon Formulations
When – September 1st – November 20th, 2013.
Each week, interns will work:
Two days with AppleSeed Permaculture LLC
Two days at Clove Valley CSA
One day with Green Phoenix Permaculture
Why – The Permaculture Design Course is a great introduction to permaculture. And, the world needs professional permaculture designers to actually create effective change. Becoming a professional permaculture designer requires a large and diverse skill-set, training in social entrepreneurship, and hands-on mentoring from working professionals. If you are someone who wants to become a professional permaculture designer by working with seasoned experts in the field, this internship is for you.
To Apply – Download the application by clicking here. Return the completed application and all attachments to design@appleseedpermaculture.com by July 15th, 2013.
"The value of my internship with Appleseed Permaculture was immense!  I learned what it takes to be a permaculture design entrepreneur using the best technology, resources, and techniques.  I loved every minute of it and what I learned has been extremely helpful in my new business!" – Evan Schoepke, 2010 Intern, Gaia Punk Design Co-op & Punk Rock Permaculture E-Zine